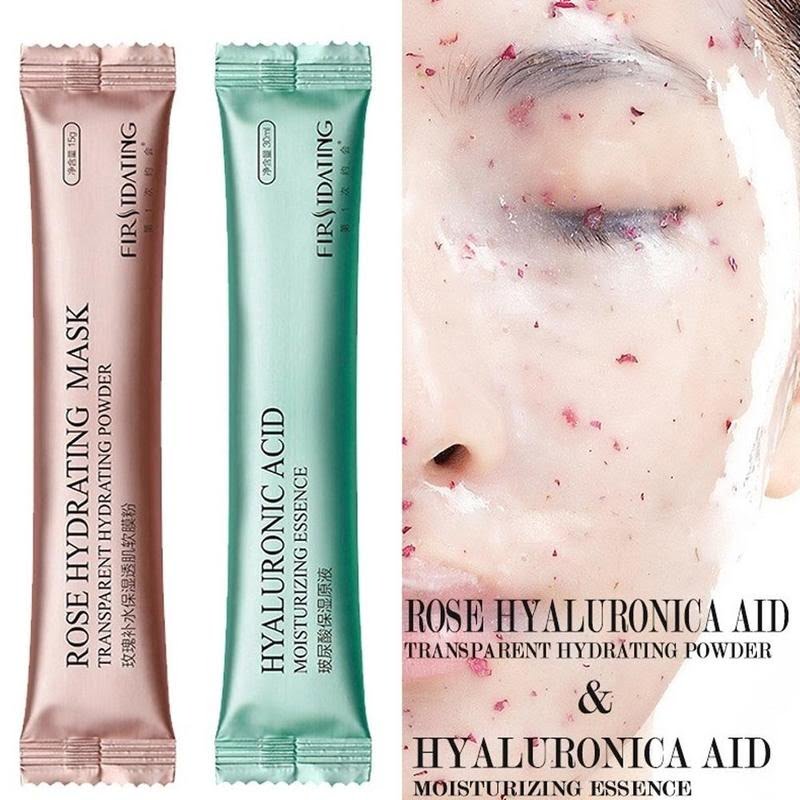 This treatment is amazing for your skin and pretty fun too! Mix together the Hyaluronic Acid Liquid and Powder, then slather it on to infuse thirsty skin with much-needed moisture.
The mask starts as a thick gel and transforms into a rubbery mask that conforms to the shape of your face. It creates a barrier to gently force all the active ingredients into the skin. The thick formula peels off super easily (in a single layer, if you're lucky) and it's intensely satisfying! You'll be left with clearer pores, smooth & glowing baby soft skin.
ROSE CRUSH MASK REAL ROSE PETALS
 Hyaluronic Acid Serum
Directions:
In a bowl, mix the mask with 1 sachet of Hyaluronic Acid Liquid.
Stir for 1 minute, until an even paste forms.
Apply a THICK layer to a clean face, using the applicator.
Avoid eyes area, hairline and lips.
Apply a little extra on the sides of your face so peeling the mask off will be a breeze!
Let dry for 10- 15 minutes, or when it has solidified into a rubbery sheet.
Peel off the mask & rinse off any residue with water.
Follow up immediately with a serum or moisturizer, to lock in the goodness!
Ingredients: Diatomaceous Earth, Zea Mays (Com) Starch, Silica, Algin, Calcium Sulfate, Pectin, Sodium Hyaluronate, Glycine, Yeast Extract, Caffeine, Silver, Cl 77019, Cl 77891, Lactobacillus Ferment, Aloe Barbadensis Leaf Powder. Water, Sorbitol, Glycerin, Algin, Sodium Hyaluronate, Carbomer, Honey Extract, Niacinamide, Ascorbyl Glucoside, Arbutin, Sodium Dehydroacetate.