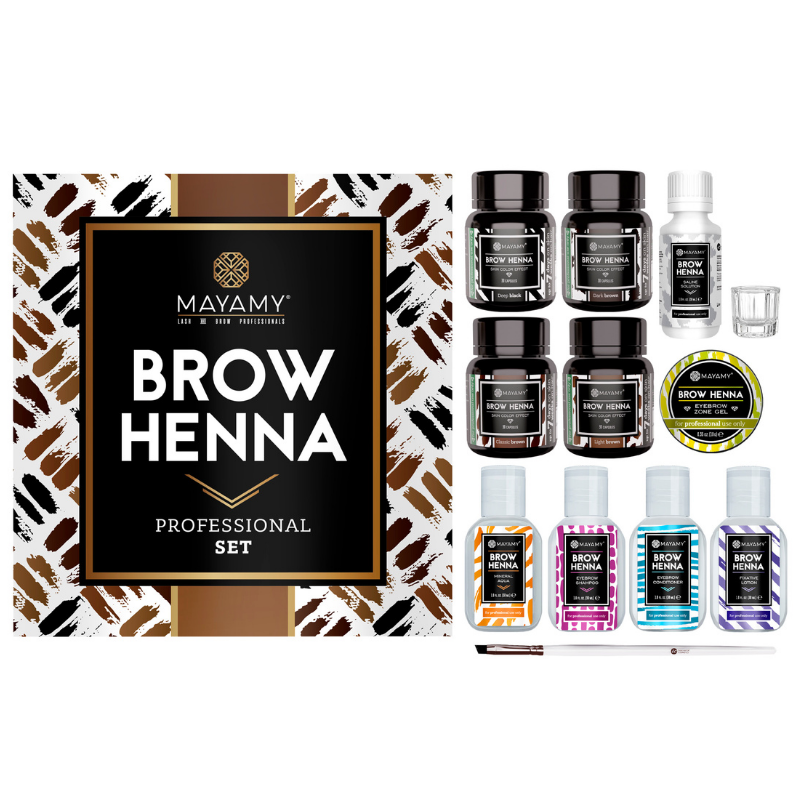 Mayamy Brow Henna Kit The world's first henna for eyebrow tinting in capsules. Offers the widest spa line for eyebrows that allows performing complete tinting and care procedures at the highest level for you and your clients.
2-3 procedures with each capsule.
For the whole kit, you should achieve 60-90 treatments. Provides long-lasting tinting on skin. The tinting effect lasts from 7 days on the skin and from 7 weeks on hairs.
Does not require oxidizing agents: is diluted with a mineral solution. Strengthens eyebrow hairs and stimulates their growth. Has a natural origin, does not contain ammonia. Apply a small amount of Brow Henna Eyebrow Scrubb to the eyebrows and gently massage them with circular motions for 30 seconds. Thoroughly wash it off with water.
Degrease the eyebrow area, using Brow Henna Let skin and hairs dry. Take a henna capsule with dry hands and open it with a twisting motion, holding it horizontally.
Pour the required amount of henna in a non-metallic tare.
One capsule is enough to carry out 2-3 procedures.
Close the capsule tightly. Add Brow henna (1 capsule 8-10 drops, 1/2 of capsule 5-6 drops, 1/3 of capsule 3-4 drops).
Mix well until getting homogeneous consistency.
Add more henna or mineral aqua if needed. Let the mixture steep for 10 minutes. It is recommended to heat it in the water bath.
Apply Brow Henna Apply an even layer of henna so it tints both skin and hair.
When the first layer has dried, apply the second one. If needed, apply the third layer after the previous one has dried. It is recommended to apply three layers of henna to achieve a more intense color and long-term result. When all layers of henna have dried, gently remove them with a wet cotton pad.
Then apply Brow Henna Eyebrow Conditioner ;to the eyebrows and gently massage them with circular motions for several seconds. Wash it off with a wet cotton pad. All ingredients are EU approved and are independently safety assessed to approve ingredients and the application. We recommend to patch test at least 48 hours before treatment and to do so by applying all solutions and adhesive to the skin.
24 hours before the procedure, apply a small amount of diluted henna on the elbow fold. In the presence of an allergic reaction, you need to remove the henna with 3% solution of hydrogen peroxide. In case of itching, irritation, swelling, or redness during the exposure time or within 24-48 hours after a sensitivity test, the use of the product is forbidden. The sensitivity test is an important precaution. However, keep in mind that even after the test the client may experience an allergic reaction. No reaction during the sensitivity test does not guarantee that an allergic reaction will not occur while performing subsequent procedures. Please, warn the client about the necessity to consult a doctor, in case of any doubt about a potential allergic reaction to the compositions' components.
Avoid contact with water and steam for 24hours after the procedure. Do not injure or rub the eyebrows for 24 hours after the procedure. Avoid aggressive cosmetic treatment (scrubs, peels, alcohol-containing products) and do not use lotions, toners, and creams in the eyebrow area for 48 hours after the procedure. Eyebrow shape correction should be carried out after the tinting procedure. If the correction was made right before the tinting procedure, postpone it for 24-72 hours, Use the henna mixture immediately, do not store it
.In case you accidentally tinted the skin with henna, apply a small amount of using a Microbrush or a cotton swab, and gently wipe the needed area. Repeat if necessary. Wash off the product residues with water.