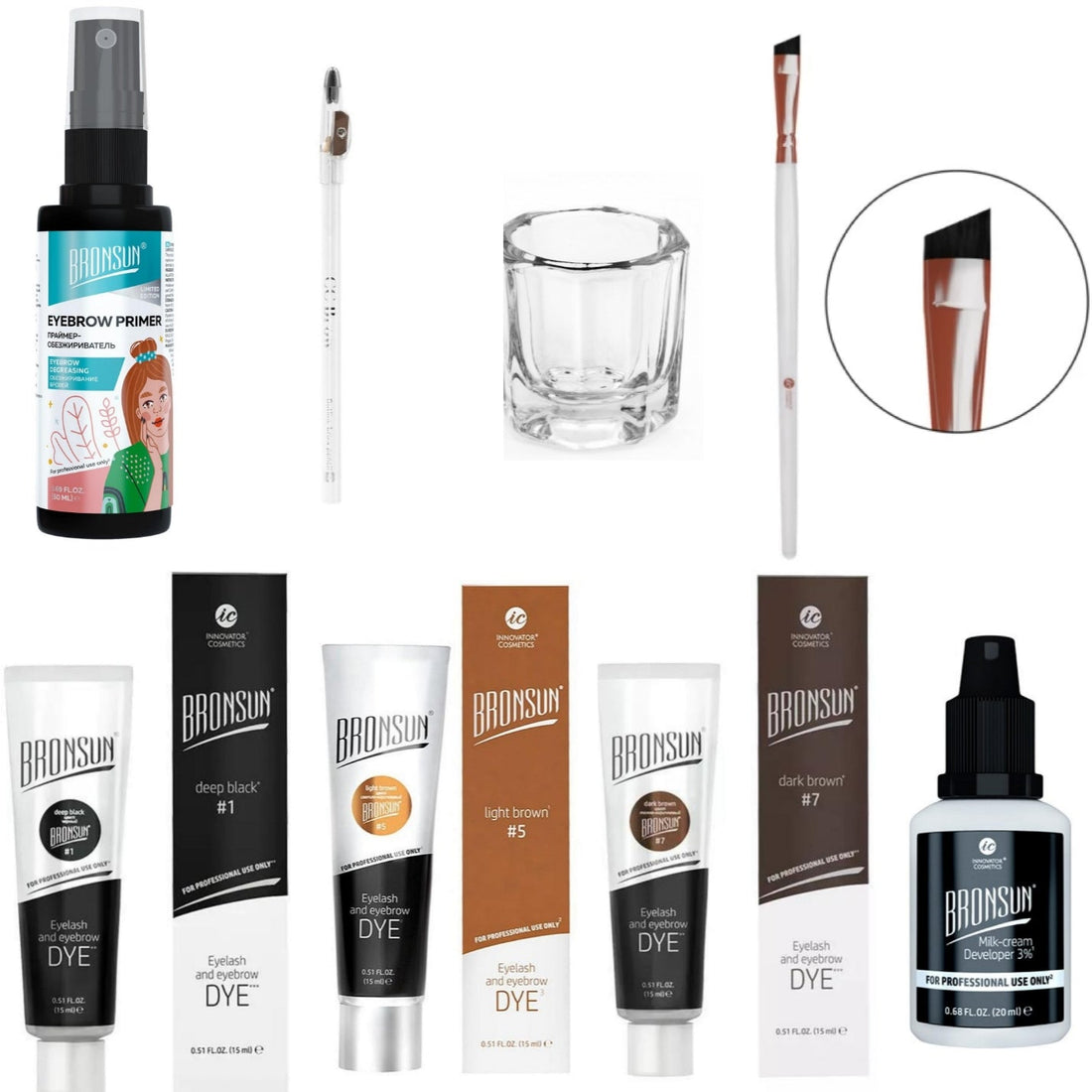 Bronsun Basic Kit
Eyebrow tinting with henna effect

Each kit includes
-3 dyes light brown, dark brown and deep black
-1 Bronsun primer
-glass cup
-1 brow brush angled / 1 flat brush (depends on availability)
-1 cc brow outline pencil
-1 Bronsun milk-cream developer
Eyebrow tinting with henna effect

BRONSUN® gel dye helps to create graphic and voluminous eyebrows regardless of clients' colour types and quality of their eyebrows: even affected by excessive correction, sparse and thin ones will look flawless after the tinting.
Intensively tints the skin as if it was dyed with henna. Besides a dye tinting procedure itself is much easier and faster!

Preparation for tinting does not require a lot of special products.
Due to its formula, BRONSUN® gel dye gently tints eyebrow hairs, so no special aftercare is needed.
Things you need to know!

Before starting the tinting procedure protect your clothes and working surface to prevent having stains from dye. 

Use the prepared dye mixture immediately, do not store it. 
Eyebrow shape correction should be carried out after the tinting procedure. If the correction was made right before the tinting procedure, postpone it for 24-72 hours.
Tube gives up to 40 applications and has a shelf life for 2.5 years and 1 year after opening.
Average exposure time of the dye on the eyebrows on 10 min
Aftercare advice 

It is recommended to avoid contact with water for 24 hours after the procedure. 

Avoid aggressive cosmetic treatment (scrubs, peels, alcohol-containing products) and steam (baths and saunas). 
Do not use lotions, toners, and creams in the eyebrow area